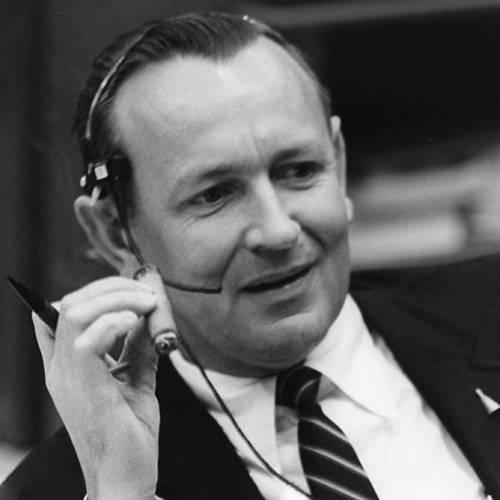 CHRIS KRAFT
Birthday: 1924
Hometown: Phoebus, Virginia
Mission Control Position: Flight Director
There is no greater a legend in Mission Control than Chris Kraft, for it was Kraft who invented the very concept.
Kraft served as Flight Director during the Mercury program, America's first attempt to send human beings into the unknowns of space. After being overruled on an issue during John Glenn's Mercury flight, Kraft demanded that such a thing never again take place. Afterward, the Flight Director would have ultimate authority over a mission.
Kraft moved to a management role at NASA during the Gemini era, but still exercised control over much that went on in Mission Control. So powerful was Kraft, he has been called "The Godfather" of Mission Control.
With that power, though, came respect on most fronts. Ed Fendell was one of Mission Control's most outspoken personalities, but more than 30 years after the first moon landing, he nearly panicked when he realized he'd just accidentally called his mentor "Chris" rather than his usual "Dr. Kraft."
In 1972, Kraft became the second director of what was then known as the Manned Spacecraft Center in Houston. He stepped down at the end of 1982.